İsmet İnönü Girls' Technical and Vocational High School
Contact Details
İsmet İnönü Girl's Technical and Vocational High School


Sakarya Mah. Atatürk Bulvarı No.56 Manisa

Tel: +90

236 231 15 78


Fax: +90 236 231 50 59
E-mail:
Internet: http://manisaiikml.meb.k12.tr/
School Principal
Osman KUŞÇUOĞLU
President of the School Parliament

Ceren DALBUDAK
NEWS FROM İSMET İNÖNÜ GIRLS' TECHNICAL AND VOCATIONAL HIGH SCHOOL
---
25 January 2013
Together with our students we carried out two projects about "democracy" and we displayed the results on the walls where all our students can see and be inspired.
* We summarised the development of democracy in Turkey and in the world.
* We summarised the processes of EDC/HRE.
23 January 2013
Manisa İsmet İnönü Girls' Technical and Vocational High School - Class 10/T - Are We Free and Autonomous Individuals?
Democracy and Human Rights course - practising "Are We Free and Autonomous Individuals?" activity in the class.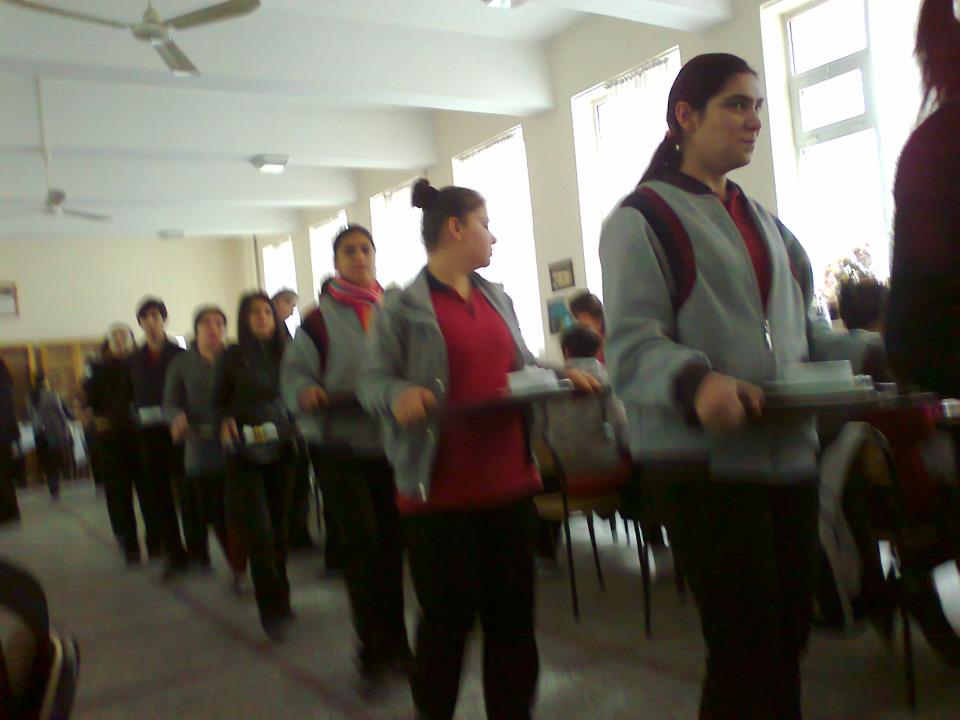 9 January 2013
A good example of supporting democratic practises wherever possible could be seen in our cafeteria.
The aim was to establish democratic values through democratic habits in every corner of the school.
8 January 2013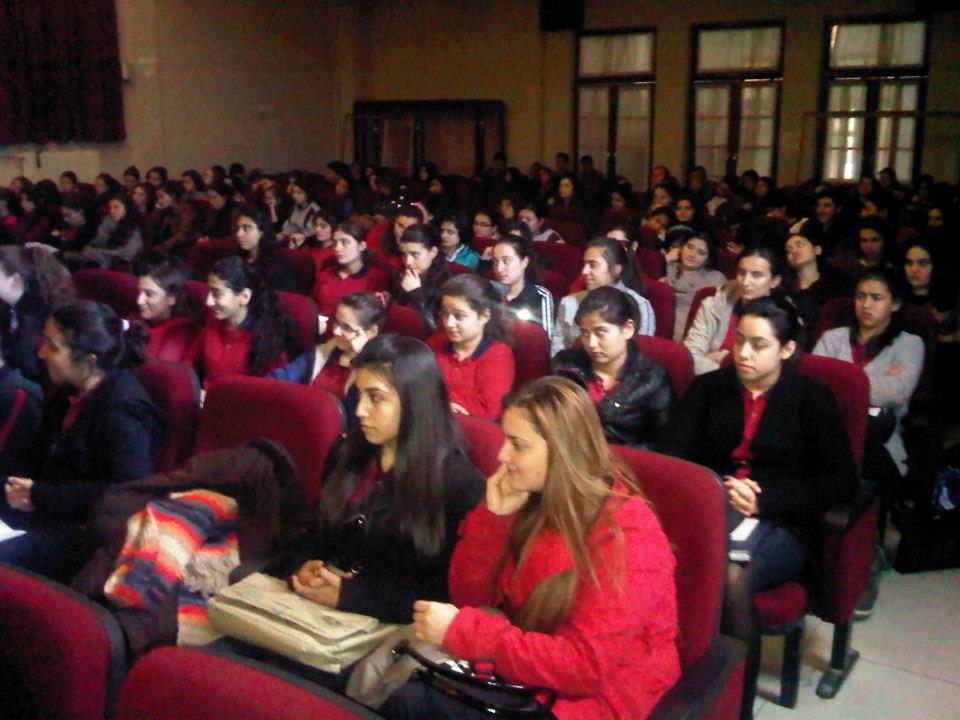 Assoc. Prof. Dr Mehmet Görel from Celal Bayar University, Department of Physical Education and Sports gave a conference at Manisa İsmet İnönü Girls' Technical and Vocational High School.
28 December 2013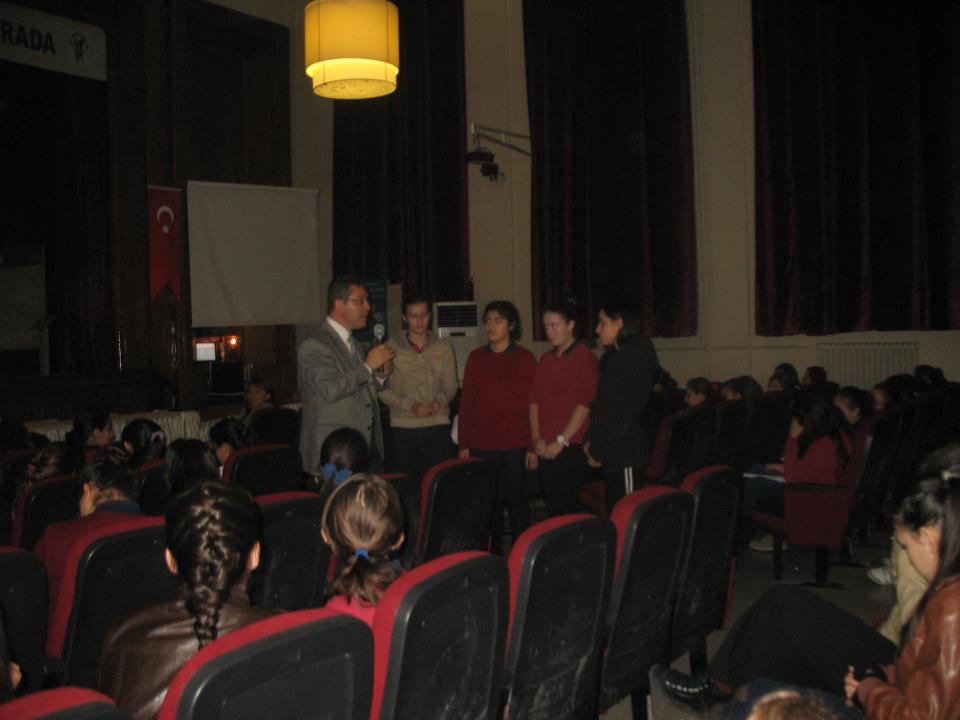 A seminar on "Human Rights" was organised in our conference hall. The speaker was Assoc. Prof. Dr Mustafa ŞAHİN from Dokus Eylül University, Faculty of Education. During the seminar, our students had the opportunity to ask questions and share their opinions. At the end of the seminar our school principal Mr Osman KUŞÇUOĞLU presented a certificate of gratitude to Dr Şahin and Ms Ceren DALBUDAK, the President of our School Parliament, thanked the speaker with a bouquet of flowers.
26 December 2012
Our school principal Osman Kuşçuoğlu participated in a Study Visit in Germany, which was organised in the scope of Democratic Citizenship and Human Rights Education Project. The Turkish delegation consisting of the members of the Legislation Review Working Group and the Capacity Building Working Group, senior officials of the Board of Education and principals from three pilot schools accomplished a three-day study visit to Hamburg and Berlin. The visit was organised in cooperation with Deutsche Gesellschaft für Demokratiepaedagogik (DeGeDe) under the guidance of Mr Kurt Edler. The agenda included two school visits in Hamburg and one school visit in Berlin. In Hamburg, the delegation was divided into two groups and were welcomed warmly by Theodor Haubach Schule and Gymnasium Allee. In Berlin, in a similar set-up the groups visited Carl-von-Ossietzky Schule and "Quadratkilometer", which is an initiative between schools and civil society. During these visits the delegation had the chance to attend the assembly of school parliaments and to observe an ethics class.
Another important moment during the visit was the meeting with the Senate Administration for Youth, Education and Science, which was opened by Mr Mark Rackless, the Undersecretary. After his opening speech representatives from the Landesinstitüt für Schule, Unterricht and Medien Berlin-Brandeburg (LISUM) made presentations on curriculum and education system in Berlin.Perhaps one of the most interesting sessions for the Turkish Delegation took place at SV Bildungswerk, where the group had an interactive session with Ms Dilan Aytaç on empowering students for qualified democratic presentation in schools.
Throughout the study-visit, the group members made good contacts and established a good network with their German counterparts for future cooperation. The invaluable experience of the teachers of Turkish origin living and teaching in Germany proved to be an important contribution for the coming period. Their understanding of both cultures is clearly a crucial element in the capacity building efforts planned for the first half of 2013. The level of willingness and enthusiasm on both sides is an indicator of close cooperation even going beyond the borders of the Generation Democracy Project.
We hope to implement similar practices in our school...
18 December 2012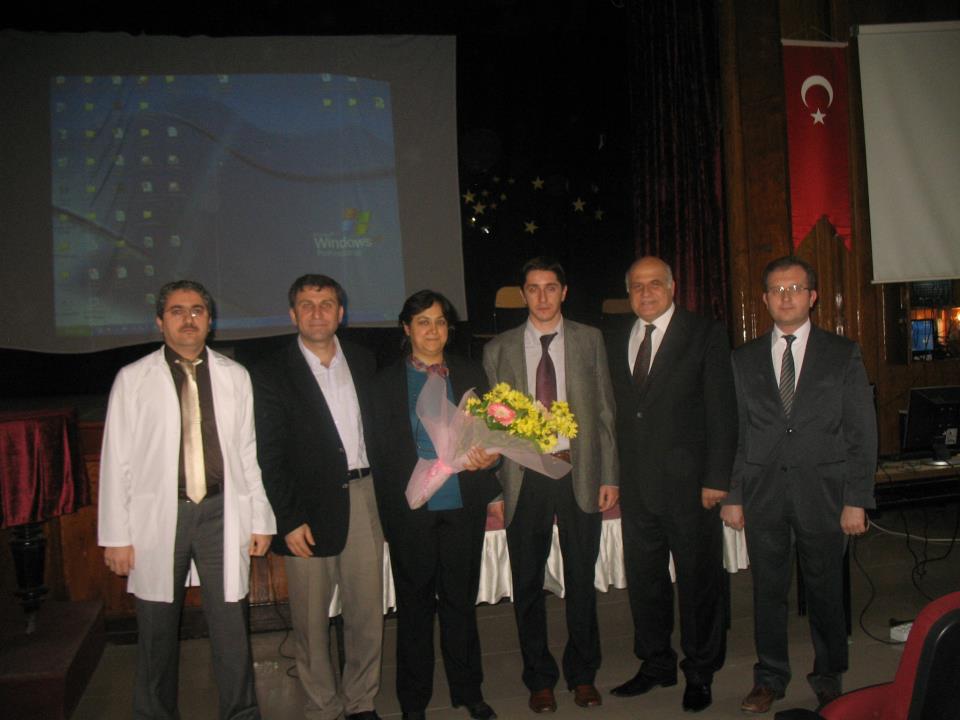 Mr Ersin Afacan, a philosophy teacher and Mr Oğuz Buharalı, a history teacher of our school organised a conference on the "Development of Turkish Democracy and a Comparative Analysis of Democracy in Arabic Countries and the Western Countries". The conference targeted our 11th grade students. At the conference, Assoc. Prof. Dr Hatice Erdemir and Assistant Prof. Dr Halil Erdemir from Celal Bayar University gave their speeches on the history of democracy and its daily practise and discussed with our students. Our school principal Mr Osman Kuşçuoğlu thanked the speakers with a bouquet of flowers.