Contact Details
Öğretmen Melahat Hüdai Gürbüz Primary School
Taşdelen Kirazlıdere Mahallesi Kazım Karabekir Caddesi No:22 Çekmeköy İSTANBUL
Tel:+90 216 312 60 00
Fax: +90 216 312 60 06
E-mail: 969319mhg@gmail.com
Internet: Melahat Hüdai Gürbüz Primary School/
School Principal
Muharrem ÇETİNKAYA
President of the School Parliament
---
NEWS FROM ÖĞRETMEN MELAHAT HÜDAİ GÜRBÜZ PRIMARY SCHOOL
Democratic Citizenship and Human Rights Education Workshop
The Democratic Citizenship and Human Rights Education İstanbul Workshop was held in Üsküdar Volley Hotel, on 18 Kasım 2013. Our school was represented in this workshop by the school principal, 4 teachers, 15 parents and 15 students. In the workshop, we looked for solutions to our questions as to how we can develop a more democratic school culture and how students and parents can be more involved in this process and we tried to develop sample activities accordingly. We would like to thank all our students, parents and teachers who were with us throughout the process and contributed to the workshop substantially.
For the workshop photographs, please
click here.
Presidential Elections for the School Parliament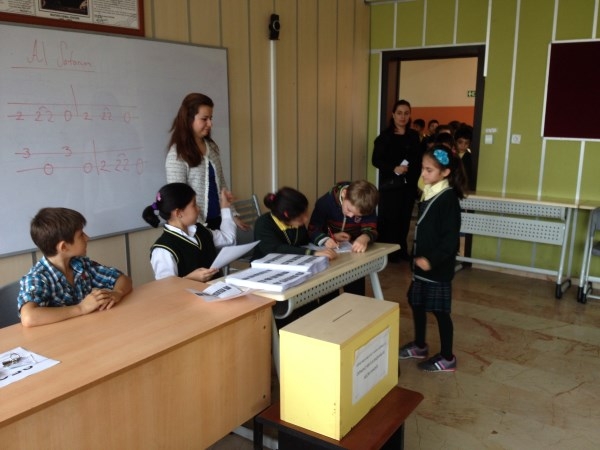 On 01.11.2013 elections were held for school presidency in the scope of "Democracy Education and School Parliament". Candidates were nominated based on the votes in each class a week before the election and they were given 5 working days to run their campaign. As a result, among the candidates Mehmet Hüseyin GÜNDÜZOĞLU from 4/C was elected as the president of our school parliament with 115 votes, and among the candidates for vice presidency Esma ÇALIŞ from 3/D was eşected with 122 votes.
We would like to congratulate, the candidates for their self-confidance, and also all our students who voted, as well as who were a part of the ballot board and ensured that the elections were conducted smoothly, and last but not least the new president and vice president of the school parliament.
Generation Democracy Pilot School Activities Evaluation Meeting held in İzmir
Generation Democracy Pilot School Activities Evaluation Meeting started in İzmir. Our school, as one of the pilot schools, was represented by Muharrem ÇETİNKAYA, the school principal, Çiğdem Feride BAY, counselling teacher and Ahmet SAKARTEPE, classroom teacher.
The workshop brought together more than 100 participants including academicians, pilot school principals, teachers, and counselling teachers. Participants contributed to the workshop through their observations and assessment. In his opening speech, Emir Adzovic, Generation Democracy Team Leader, used the metaphor of building a house to explain the work of project working groups. He said that the Legislation Review and Curriculum Review Working Groups are like the concrete blocks of the house, while Curriculum Devlopment and Democratic School Culture Working Groups constitute the main infrastructure for water and electricity. He concluded that "In this construction process, we need the help and contribution of all school principals and teachers, every single piece of contribution will make this house look much nicer."
Legislation Review Workshop in İstanbul
A Legislation Review Workshop was organised in İstanbul Bakırköy Titanic Hotel on 18-20 March. School principal Muharrem ÇETİNKAYA and classroom teacher Ahmet SAKARTEPE attended the workshop. The main aim of the workshop was to discuss the legislation review process and go through a number of relevant articles of laws and by-laws. Vice President of the Board of Education, academicians from national and foreign universities, school principals and teachers were the main participants.
Elections for the School Parliament - 8 November 2012
In order to help the students improve their skills of voting, electing, and being elected; and as well as participating, being tolerant, adopting democratic leadership, and creating public opinion, we organised elections for the Presidency of the School Parliament in the frame of a Protocol between the Turkish National Grand Assembly and our Ministry on Democracy Education and School Parliaments project. İrem Nur Uçma was selected as the school president with the majority of the votes.