Contact Details
Lala Şahinpaşa Primary School
Barutluk Mah. Londra Asfaltı Fırınlar Sırtı Mevkii Arnavutköy Küme evleri
TOKİ MERKEZ EDİRNE
Tel: +90 284 226 83 66
Fax: +90 284 226 83 00
E-mail: 970753@meb.k12.tr
Internet: Lala Şahinpaşa İlkokulu
School Principal
Neslihan Usta
President of the School Parliament
---
NEWS FROM LALA ŞAHİNPAŞA PRIMARY
Lala Şahinpaşa Primary School
Lala Şahinpaşa is one of our pilot primary schools where the "Strategy document on democratic school culture" is being tested in the 2012 - 2013 academic year. Here we would like to share with you the activities initiated and implemented by our stakeholders including the school management, teachers, students, parents associations, other school staff and so on. In our case, the willingness and dedication of the pilot schools is highly important. Therefore, we would like to provide you with the latest news from our schools and we hope that the amount of information and the number of good practices presented here will grow each passing day.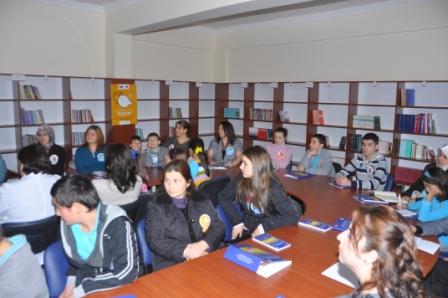 Activity for Human Rights Week
On Wednesday 12.12.2012 we organised a gathering for the "Human Rights Week" in our library between 15.00-17.30 hrs. All our stakeholders (school management, teachers, students, civil servants, janitors, parents, the "muhtar", academicians and representatives of trades people) participated voluntarily. Throughout the activity, all participants had the opportunity to express their views and the exchange of ideas continued over the cocktail which followed the discussion. The activity was documented by photographs and video recording. We received very positive feedback from the participants during and after this very first activity we organised in the scope of the Project. We believe that we managed to create a level of awareness about democratic life and human rights and freedoms. We are planning to organise a number of different activities in the coming period.